Throughout my project so far, I've been fortunate to have a chance to work with many different experts and licensed professionals. From the architects to the foundation contractor, I've learned something from each person who has come to the job-site or whose office I've paid a visit to.

Besides being an eco-friendly home builder, I'm also a product manager at Taco Comfort Solutions. Taco is a premier manufacturer of residential and commercial water circulation systems, water heater accessories, and HVAC technology. I count myself lucky to work at a place where I'm surrounded by the best and brightest, people who I can count on for their expertise in and out of the office.

So far, most of the people I've consulted with about my project work in the residential realm. But since my project incorporates some elements of commercial system design, there is one person from Taco who I've been clamoring to show my project to. That person is Rich Medairos, a Senior Systems Engineer. In my opinion, he's one of the most knowledgeable people in the industry when it comes to commercial system design. Rich also runs Taco's commercial-side training programs and works with engineers all over the country to design commercial HVAC systems.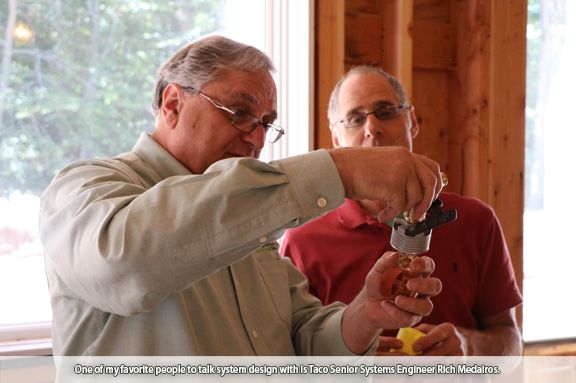 So all of that being said, you can probably tell why I'm excited to have him come out and look at my eco-friendly system design. I really want to get Rich's opinion about my choice of mechanicals, where I decided to place them inside my home, and how the systems will work in tandem with other systems I've designed for my new home.
The project is moving right along - there's no doubt that Rich's feedback will be useful to me as I workout the final details of my HVAC system. What do you think of the overall design? Join the conversation and let us know!
Do you like this post?
---