I've been building my own homes for over 30 years, and in the process I've learned a few things that only come with experiencing a string of homebuilding projects. Building homes has been a hobby of mine that has withstood the test of time, economic changes, and technological advances in the trades.

I consider myself a die-hard homebuilder, and I've kept up with trends and innovations so that each time I've built a new home, my next project always surpasses the one that came before it. Building an eco-friendly, safe and secure comfortable home means that in addition to giving my plans a great deal of forethought, I also have to be prepared to make decisions on the fly.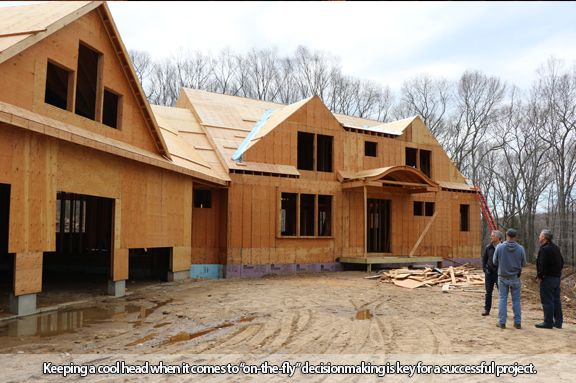 One thing I've learned is that if I encounter a complication in a portion of my project or an unforeseen externality to building my home a certain way, I don't have to face it alone. Rick Staub and Greg Echtman of Point One Architects have helping me plan this project from the beginning.

One of my first big "decisions on the fly" involved the availability of the person I initially chose to build my home, Bill Zdon. As my project timeline moved along, Bill became hung up on an unrelated job and couldn't begin work at the jobsite. Even though I have a good relationship with Bill, I needed to stick to my established timeframes. So, I hired a local framer to bring the project to a certain stage. Hopefully, Bill can wrap up on his current job and consult with me on some of the insulation details.
Another issue that came up for me was construction-related. The windows that I wanted to to order for my new home were going to increase in price so I decided to purchase them earlier on than I normally would. By time I got to framing the family room, I discovered that my insulation plan wasn't going to work the dimensions of several of the windows, so I had to bite the bullet and order a few replacements. I could have tried to alter the framing of my home to accommodate the window and insulation, but I'm much more concerned about having a flawless frame than sacrificing a window.
Rick and Greg are extremely useful people to know when it comes to any questions I have related to the original plans and designs we came up with. Typically if I need to make an alteration to the plan during an intermediate stage of construction, Rick or Greg will review the changes with me beforehand and give me their expert opinions.

I've found that keeping a level head during the course of a project, consulting with other professionals as needed, and knowing what all of my options are before I make an on-the-fly decision help keep the project on track and make the overall experience more fun.

What's your take on organization when it comes to a project like this? Join the conversation and let us know!
Do you like this post?
---