Every time I visit a hardware store, I'm reminded by the aisle full of different switches and control panels of how lucky we are to live in an age where the options are virtually limitless. Building convenience into your home is easier than ever before, and achieving near-complete control over your home's systems is much more cost effective than it used to be. As our project reaches the finish line, I wanted to touch on this one more time - I've been building homes for several decades, but developments in connectivity and home automation have come relatively recently in the scope of my experience. Like any passionate home builder, I'm always on the hunt for what's new so that I can get the most value out of my project.
To cap off our conversations about connectivity and home automation, I invited Nate Fischer of Taco Comfort Solutions to the job site to take a look at the project. Nate is Product Manager of Applied Technology Deployment and has a background as a system design engineer for high quality audio and video systems. For anything related to connectivity, Nate is an excellent person to talk to.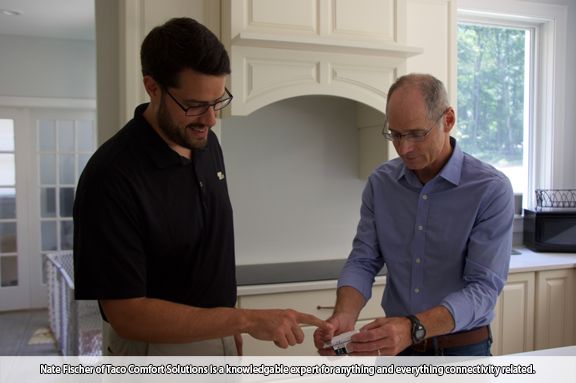 In deciding what features of my new home to automate, one big takeaway for me was the necessity to take into account other people who will be in and out of the home or living there permanently with me. I'm a bit of a tech junkie, so I didn't want to design a system that would be too difficult for my wife or daughters to use. To me, that's one of the most important takeaways when it comes to home automation - designing a system so that everyone in a home or building can use it easily.
Things like smart switches, keypads and integrated functionality can add resale value to a home - this is a detail I don't necessarily have to worry about, since my wife and I plan on making this our retirement home. However, if you are building a home with advanced functionality features and you intend to resell, make sure you either make the systems simple enough for a successive homeowner to use, or provide contact information for the installer for the next homeowner. Either way, it's definitely something to think about.
Keypads and smart switches are only one aspect of home automation, though - thanks to big companies like Amazon, voice recognition has become an economical way to add convenience and functionality to your home. I made the decision to install an echo dot into my kitchen - these devices add a myriad of conveniences and can make life easier. From putting on the right music to drumming up culinary recommendations, Alexa has my back in the kitchen.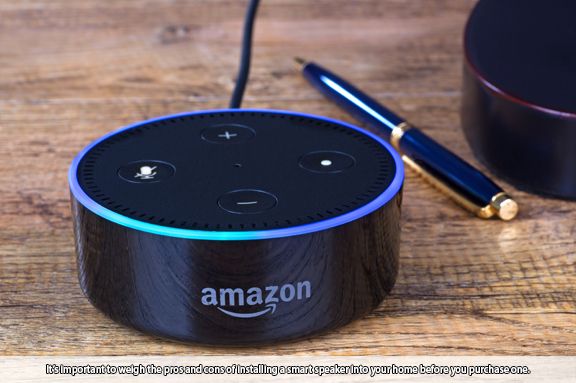 Of course, there are some privacy concerns with smart speakers and devices similar to the Echo, too - I recommend reading up on them before making a decision on whether or not to purchase. These devices literally listen to everything you are saying, and there are some concerns about the devices being hackable or prone to bugs. For me, what I do in the kitchen isn't really that out of the ordinary, so it works for me. It's your call.
In any case, my goal with this project is to make the home comfortable with easy to use features, and I think we've accomplished that. I hope you've enjoyed learning about the various aspects of connectivity and home automation that we've decided to incorporate into the project and I would love to hear from you about what you think. Join the conversation and let us know!
Do you like this post?
---