There's an old HVAC saying that the perfect comfort scenario inside a home is warm feet, cool head. To me, there's no better feeling than relaxing in the family room and not having to get up every half-hour to fiddle with the thermostat or put on an extra layer of clothing. That's why I decided early on in my project to put in a radiant system throughout the basement, garage and first floor of my home.
I have a lot of friends who are in the HVAC and construction industries, and I can tell you that underfloor heating is a popular option. My friend and colleague Joe Mattiello is installing a world-class underfloor heating system throughout his home, and after he heard that I was doing the same thing in my new home he invited me up to take a look at his new system.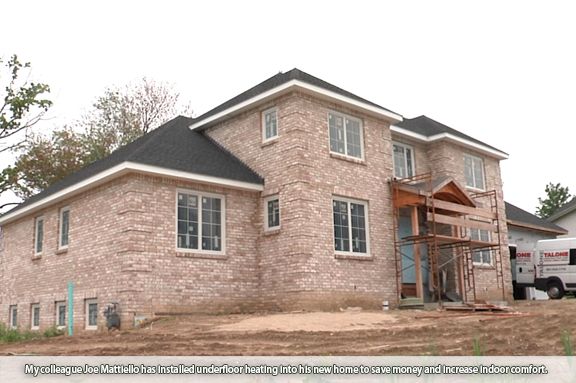 As with all engineered systems, there's more than one way to design an underfloor heating system - system design choices largely depend on a number of factors including square footage of the building, climate and weather conditions, and availability of building materials. Up here in the Connecticut tri-state area, the climate is perfect for underfloor heating. With four seasons and cold winters, we are perfectly positioned to reap the maximum benefits from such a system.
When you watch the episode, one of the first things you'll notice is that the construction techniques that Joe is using are a bit different than mine. He's using more conventional construction techniques, but also poured lightweight concrete underfloors on the first and second floor. He's also using a different method to install underfloor heating than I am, by installing it underneath the floor with joist tracks. One big advantage of installing underfloor heating this way is that in the end, the water temperature throughout the system will be consistent.
John Perry of Advanced Comfort Systems designed and installed this system. In my opinion, he's one of the best in the business. John told me that he designs most of his systems from scratch, and builds the mounting boards for his manifolds himself. One thing I admire about the way he designs his systems is that he keeps things simple - by using the concrete method and spacing his tubes appropriately, John is able to design systems that use one water temperature and require minimal maintenance.
By the time Joe's house is finished, he'll have a heating system that's practically on cruise control. Joe's system makes use of just about all the high quality products you can use - Taco ECM variable speed pumps and zone controllers are going to make for a high-efficiency system that's easy to monitor and maximizes indoor comfort.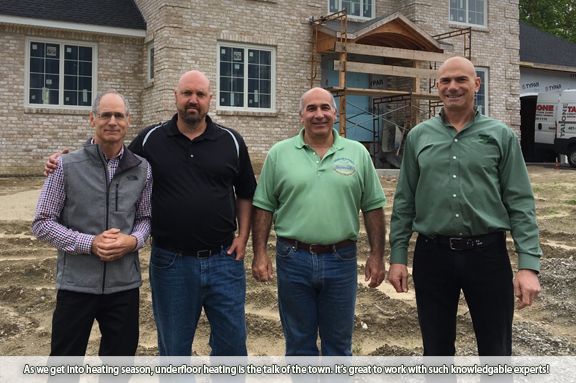 As heating season kicks off, there's no better way to celebrate the fall colors than considering a radiant system as a premier option for any residential or commercial project. What do you think about Joe's system and John's installation techniques? Join the conversation and let us know!
Do you like this post?
---