Over the past few weeks, we've shifted the focus of our blog over to the interior portion of my home construction process. My framing team finished their work several months ago and most of what I've done with the exterior since then relates to making the building envelope super tight and making sure that the walls of my new home reflect the plans we put together at the beginning of the project.
Earlier in the project, I put together a diagram that explains how each layer in my wall system functions to create a super tight envelope. When the walls are finished, they'll reduce my energy costs and provide the caliber of indoor comfort that my wife and I are used to. I encourage everyone to take a look at it - as far as wall construction systems go, this is not something you see every as far as how the typical home is constructed.
You might have noticed from the past few episodes that the outside of my home is looking a bit more complete than it did just a few months ago. I'm excited to show you what the finished product will look like once I'm able to start shingling and working on the cosmetic details.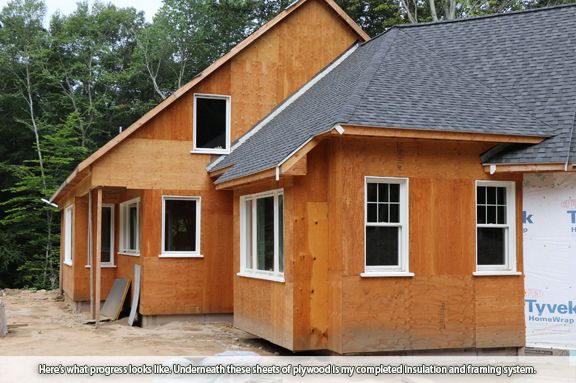 The fruit of my hard work feels like it's right around the corner, even though there's so much left to do. As far as keeping the interior nice and cool, I'm already beginning to experience the benefits of advanced wall construction - I've been able to keep the interior relatively cool while I work, with just a window-mount air conditioner for now because the super tight envelope prevents warm air from infiltrating the interior space.
Next week, you'll get to learn more about the mechanical systems that will make real indoor comfort possible. Taco Senior Systems Engineer Rich Medairos will be paying me a visit at the job site to learn about my commercial-grade sprinkler system, air-to-air exchanger, and the other goodies in my mechanical room. Stay tuned!
What do you think about the techniques we used to build the walls of my new home? Join the conversation and let us know!
Do you like this post?
---