The roofing system that I am using for my eco-friendly home is different than the systems used for most homes. I am using a multi-layered roofing system for the roof that's designed to compliment the advanced framing construction techniques I used below it.


The roof isn't quite done yet, but when it does it will pack quite an R-value punch. My base layer for the whole system is a layer of GAF underlayment to keep water out but allow the whole roof to "breathe" - that is, allow moisture to escape. I'll place my insulation system on top of that, which for the roof consists of two four-inch layers of rigid commercial insulation.

On top of the two four-inch layers of rigid, I'm placing 2x4s spaced about a foot apart, with an additional one-inch layer of insulation. This will create an air cavity that will allow for roof ventilation. Above that goes a layer of plywood, followed by shingles.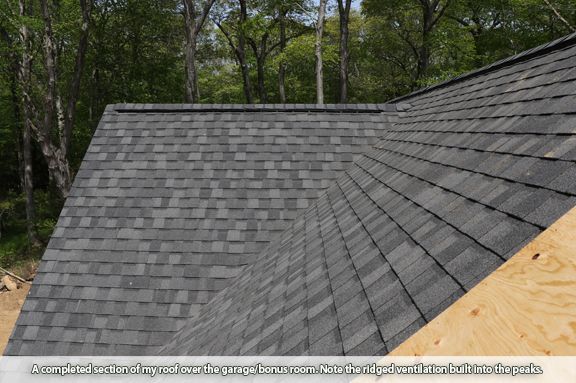 At the very top is a ridged vent that completes the ventilation aspect of my roofing system. Adequate ventilation is necessary in a colder climate like New England to prevent the roof from icing up during a snowmelt, and to vent moisture that's moving from the interior of the home to the attic. If you're ever looking for a crash course in roof venting, I've put one of my favorites at the end of this article.
I did not add extra insulation underneath the garage area, simply because I don't plan on using the space. I focused on creating a building envelope around the primary living space, where my wife and I will spend most of our time.

The system I built should have a thermal resistance (R-value) of around 70. R-70 is a lot higher than most conventionally built roofs, which come in at around R-30. I built the whole system to work together as one unit to keep my home as comfortable and energy efficient as possible.
If you're looking to expand your knowledge about roofing ventilation, buildingscience.com has a good article that I found is a good place to start.
As I finish up the roof, I'm also getting ready to install the first PEX tubing for my underfloor heating system in the basement and garage foundation floors. I plan to have Taco Residential Trainer and underfloor heating expert Dave Holdorf come down to the job site to give me some insights and tips about the system I plan to install. Dave is a lot of fun to work with, so I'm looking forward to seeing him and hearing what he has to say. Stay tuned!
Do you like this post?
---