October is definitely here. Somebody once told me that you can always tell when it's October at Home Depot if the front of the store is filled with Christmas trees and holiday decorations. Actually, nobody told me that but I witnessed it the other day when I stopped off to pick up some lumber. The Halloween decorations were already on clearance racks.
Needless to say, I'm thinking more about what I need to do at the job site to prep for winter and meet a few key deadlines before the cold sets in. Luckily, I took full advantage of the fair weather this summer to get most of my exterior construction done, and I've been sealing up the last few areas in the envelope since George Keithan paid us a visit to do a blower door test. I know that my heating system won't be ready in time for the cold, but I certainly won't be freezing.
I've timed my construction processes out so that as those temperatures start to dip down I'll be occupying myself with mostly indoor projects. Over these past few weeks, I've mostly been working on sealing up the envelope using the results of my blower door test to lead the way. After that, I'll be finalizing up a few things with the electrical systems.
Before I really hunker down indoors though, I'm going to attend to another potentially significant exterior detail. I've been exploring the idea of installing Solar thermal panels on the roof over my garage. That roof isn't presently being utilized, and I think that having a couple of Solar thermal panels could lower my carbon footprint even more and bring in the savings.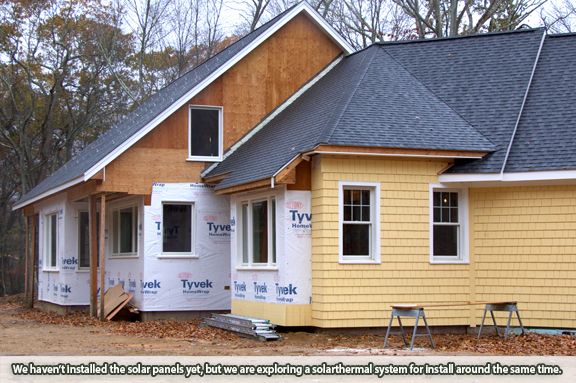 Exploring the solar thermal option should be interesting. If I can install a solar thermal system and have it work in conjunction with my PV and building envelope, it would practically eliminate the need for electricity from the grid.
Do you like this post?
---