A lot of changes have happened since our last episode! Now that the walls of my new home are all painted up, I've been working on four key areas of the home's interior: the flooring system, the kitchens, the bathroom, and the master bedroom.
The hardwood flooring system that I've selected is perfect for this project. The floor panels have a very thick true hardwood top layer on a plywood substrate. This has the effect of making the floor dimensionally stable, which is important for underfloor heating applications. I like the look of hardwood, but I don't want it to shrink, dry out or bow. Engineered hardwood is an ideal choice for this project, because my plan is to heat from underneath the floor by attaching heat transfer plates to the subfloor.
Many people purchase a pre-finished hardwood floor, but for this project I purchased the panels unfinished. My plan is to sand it down and stain it in a gray tone to match other elements of the house.
For the living room, painting is all done and we're working on installing the hardwood flooring system. For my living room paint job, we carried the wall color up and over the ceilings - that way, my hope is people's attention will go to other features that the living room has to offer, like the windows and nice view.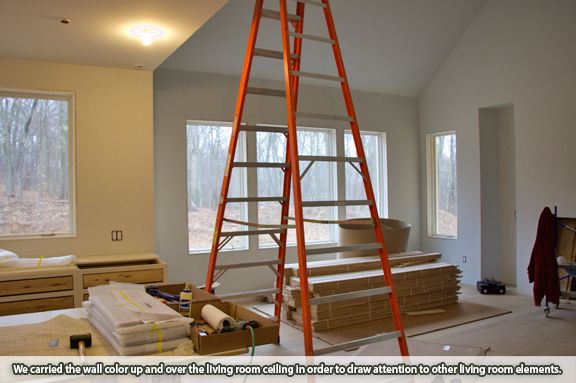 You'll probably notice I've posted a few pictures of the kitchen in progress. I've finished installing the kitchen cabinetry, and Now I'm working on fine tuning the space. Basically, I just have to finish putting on drawer fronts and a few surfaces and the kitchen will be good to go.
The downstairs bathroom is going to look really slick when it's done. I've gone with a floating vanity system, more of a matter of personal taste than anything else. Soon, it will be time to set the shower and toilets but I always prefer to work from the ground up, so we'll get the flooring done first.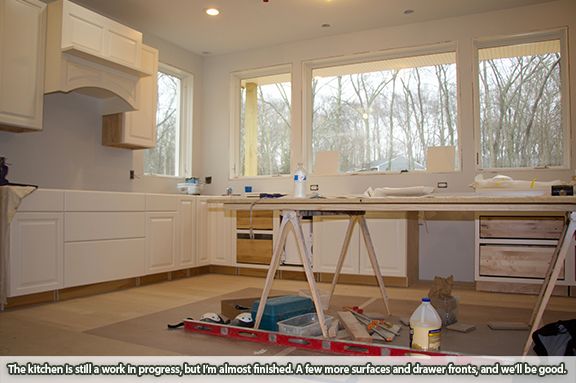 I can't help but be excited about finishing the interior. Our trim is on order for the doors, and we've just about finished up most of the other first floor interior details. Pretty soon, it will be time to move in!
Do you like this post?
---