Right now, I have a lot of different parts of my homebuilding project happening simultaneously. I've begun taking a look at some options for home automation, and I'm continuing to work with a local electrician to install the wiring in my new home.

Now that the framing of my home is basically done and most of the construction has moved inside, I can finally get a drilling rig into the back yard and drill the hole that will become our well.

I have a few things to consider here for this portion of my project. The first, of course, is price. Prices for drilling are usually quoted by the foot, and the costs vary depending on whether you're drilling through sand, clay, or solid rock. The well I'm drilling will probably be more expensive because we'll be drilling through granite in order to reach the aquifer.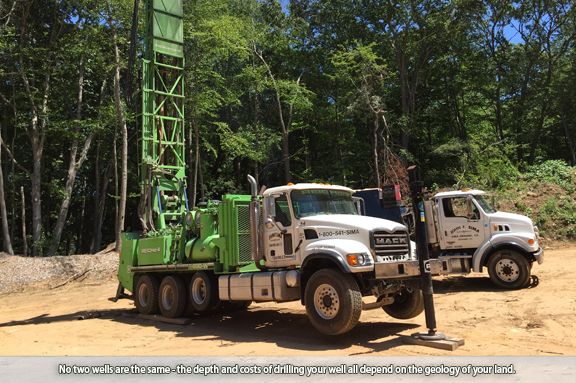 Another consideration is hiring somebody you trust to drill your well - this is kind of a one-and-done deal, you don't want to have to go back and drill another hole because somebody made a mistake. So, I've hired Larry Sima of Sima Drilling to take care of this for me - I've worked with Larry before on previous projects, and the Sima family has been drilling wells in the Connecticut area since the 1950s. Sima's well drilling experience spans over 20,000 wells, so I trust them to get the job done right.
You can take a look at my well drilling completion report here.
If you've never been through the process, you may find this report interesting. You'll see that my completed well will be 430 feet in depth, which makes my well fairly deep.

The reason we have to drill a deep well is because my new home is located close to the Connecticut river. Larry told me that drilling a deep well is necessary to prevent infiltration of salinity from the river, which is brackish. The geology of my land is also a big consideration for this too - we'll be drilling through about 18 feet of sandy till and boulders, followed by about 10 feet of rotten ledge, followed by several hundred feet of granite.


No two wells are the same. That's why it's important to consult with someone who has experience drilling in the area that you're building in.

I'm excited to finish up this portion of the project. Once the well is drilled, we'll have water access finally and begin to connecting our other systems.
Do you like this post?
---