What a whirlwind these past few weeks have been. For us, preparing for the AHR show is a lot of hard work for everyone involved. The weeks leading up to the show always go by so fast, then before you know it you're there on the show floor, trading stories with other folks from all around the world. If you work in the HVAC-R industry, then you know that AHR is a great place to catch up with old friends and business associates. That's how you know our industry is doing well - this year's AHR in Chicago was packed full of exhibits and people eager to see the very latest and learn from each other about industry developments.
That's the other thing I like the most about AHR, is that it provides a snapshot in time of what HVAC-R companies, big and small, are working on and what technologies are coming to the forefront. At the Taco booth this year, connectivity was the dominant theme for this year's show. Most of us are constantly connected to the internet through our mobile devices, and more people want to cash in on the benefits that their device has to offer. So, Taco has developed new products that make life easier and interact more seamlessly with smartphones, tablets and computers.
While I was on the show floor, I ran into my old friends from Harris-Dudley Co. and got to walk the show floor with them for a bit. They're a fourth-generation, family owned HVAC outfit based out of Salt Lake City - they specialize in everything from radiant floor heating to snow melt systems, plumbing, furnace repair, and HVAC heating and air. One of the things I like the most Harris-Dudley is that they genuinely love what they do and have a keen interest in providing their customers with top-shelf solutions.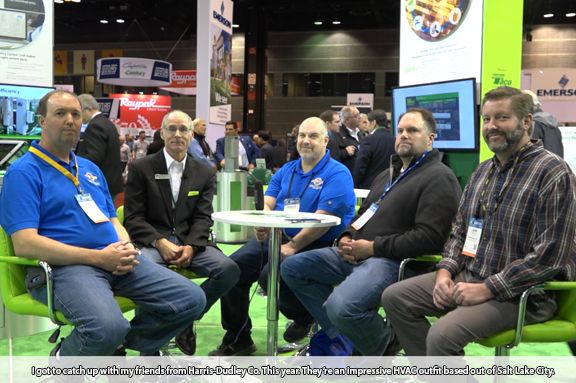 I got to sit down with them and catch up about the show - I hope you enjoy our conversation! if you attended the show, feel free to leave a comment and tell us what you enjoyed the most.
In the weeks to come, we'll be posting some other new content from the show including an important interview with Mark Chaffee about the regulatory and DOE side of things. Overall, it was a great show. The Windy City lived up to its name, and everybody walked away from the show with some new information and a better understanding of the HVAC picture. Stay tuned!
Do you like this post?
---