Back in our "Windows and Doors" episode, I walked through a showroom packed full of different examples of windows that I could have installed in my new home. From single to double pane, from solid glass pane to casement windows, I knew that I wouldn't be selecting just one style of window for my new home and that I would have to make some choices about what manufacturer to use.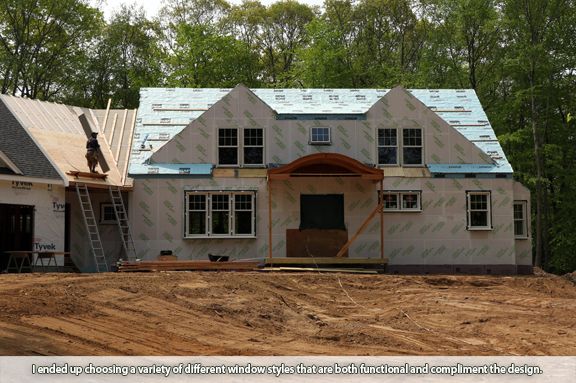 Before I installed my sets of windows, I had the framers finish most of the frame and install our housewrap and flashing system so that I could install the windows and casements at the end of that process. Since I plan on hanging four inches of ridged insulation (2 layers of paper faced polyisocyanurate insulation) on the outside of the frame, I designed the extension jambs to protrude out about four inches so that when the insulation is hung and the siding installed, the windows won't stick out like a sore thumb.
I built the extension jambs myself out of PVC lumber. In order to accomplish this task I've temporarily converted my garage space into a miniature sawmill, with appropriate sawdust collection and ventilation systems. I feel more like a lumberjack already!
I ended up using three different styles of windows for the home. Point One Architects was key in helping me make some final decisions about the look and feel of my new home, and pointed me towards some window styles that would work for the design. In the great room, I am using casement and fixed windows. The casement windows are hinged on one side and swing out when they open for ventilation and are well-insulated to protect the integrity of my building envelope. The fixed, large-pane glass windows are more for aesthetic appeal.
Upstairs, I used double-hung windows in the bedrooms and study - fairly typical for New England construction. I also have some awning windows in the more private areas like the upstairs bathroom. Even though I've built my envelope super tight, I know that I have to be able to have ventilation when I need it.
Overall, I'm happy with my window choices - I picked some windows that I think are pretty stylish, functional, and of course compliant with my town's building code. What do you think about the windows I chose for this project? Join the conversation and let us know!
Do you like this post?
---