Blower door testing helps determine how airtight a home is and can help a homeowner reduce energy consumption and avoid moisture, drafts and other problems. In my case, since I have constructed an envelope that's designed to be super tight, blower door testing is an integral part of my process. Once the diagnostics are complete, we can see for ourselves how well the envelope stacks up in regards to the home's overall energy efficiency.
During our first blower door test, George Keithan and Paul Sekas of CES came to the jobsite and went around the house with an infrared gun looking for air infiltration. Although I did a pretty good job of constructing the envelope the way that I intended, there were still some areas that needed improvement. Our second blower door test is meant to confirm that all areas needing improvement have been fixed and that the building envelope is nice and tight.
I'm pleased to say that the test went well. I don't have all of the numbers on hand yet, but I will post them once CES is finished analyzing the results. During our conversation at the jobsite, George did tell me that he thinks the final result will be fairly close to a net zero energy home. While my home will use a small amount of energy, my energy use will be offset by a tight building envelope and the use of renewable energy in the form of solarthermal and PV panels.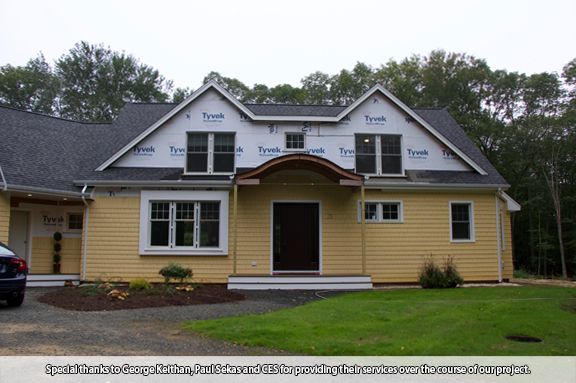 This is one of the last components to my project. I'd like to thank George, Paul and the rest of the CES staff for helping us through these portions of our project, as well as providing consulting services on renewables. George's experience and expertise has been invaluable throughout the course of our project, and I would highly recommend CES to anyone in need of these services.
Next week, I'll take you into our basement for a final look at the multi-zone heating system that we are finishing up. Stay tuned!
Do you like this post?
---